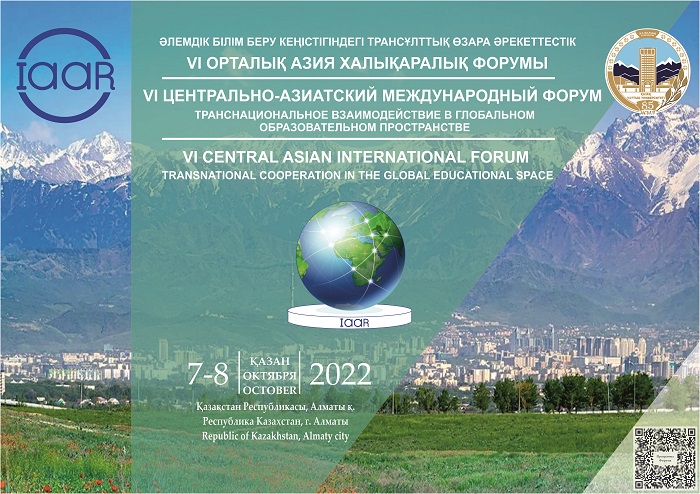 Independent Agency for Accreditation and Rating (IAAR) looks forward to welcoming you at the VI Central Asian International Forum on Education Quality Assurance "Transnational Cooperation in the Global Educational Space", which will be held in the city of Almaty (the Republic of Kazakhstan), on October 7-8, 2022, in the premises of Al-Farabi Kazakh National University in a mixed (on-line and off-line) format.
The annual Forum is aimed at discussing current approaches in the development of the education quality assurance system, expanding cooperation with international organisations and agencies, improving the quality culture and constructive interaction between the academic community and the labor market.
The Forum will be attended by representatives of state bodies, international networks for quality assurance in higher education, foreign accreditation bodies and employers from the Republic of Kazakhstan, the Netherlands, the Republic of India, the Republic of Turkey, the Republic of Latvia, the Republic of Azerbaijan, the Republic of Moldova, the Republic of Armenia, Georgia, the Kyrgyz Republic, the Republic of Tajikistan, the Republic of Uzbekistan and other.
The Forum will discuss the following key issues:
The Influence of Global Reality on the Prospects for the Education Development
University Architecture: New Models and Opportunities
The Quality of Medical Education in the Digital Transformation Era
Student-Centered Approach: Management and Culture
Ranking – the Way to Academic Leadership
Working languages: Kazakh, Russian, English.
Participation in the Forum is free of charge. Participants are kindly asked to book their own travel and accommodation. Certificates will be delivered to the Forum participants.
Upon the Forum outcomes it is planned to release an electronic Forum Proceedings. Publication in the Forum Proceedings is free. Materials for publication must be prepared in accordance with the requirements (Appendix 1) and sent before August 25, 2022 to the email address: forum2022@iaar.agency
Registration of Forum participants is carried out online until September 20, 2022 through the website on the following link
Program of the VI Central Asian International Forum on Quality Assurance in Education
Information on recommended hotels is available at the following link.
Additional information can be obtained from Forum Organising Committee upon the request via e-mail: forum2022@iaar.agency, iaar@iaar.kz
Contact persons: Timur Kanapyanov, Malika Saidullaeva +7 (7172) 768 559, + 7 (7172) 768 560
We look forward to welcoming you to our annual international Forum!