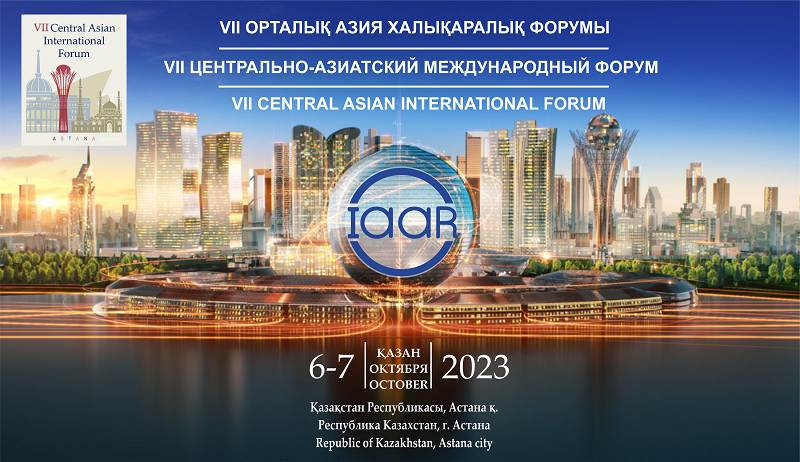 Independent Agency for Accreditation and Rating (IAAR) looks forward to welcoming you at the VII Central Asian International Forum on Education Quality Assurance "A Sustainable Future for Education - Quality and Competitiveness: Historical Perspective, Realities, and Priorities", which will be held in the city of Astana (the Republic of Kazakhstan), on October 6-7, 2023, in the premises of Schoolchildren's Palace (B.Momyshuly Street, 5).
The annual IAAR Forum aims at discussing topical issues of development of internal and external quality assurance system in education, expansion of cooperation with foreign educational organisations, promotion of quality culture and constructive interaction of the academic community and international labour market.
The Forum will be attended by representatives of state bodies, international higher education quality assurance networks, heads of higher education institutions from Kazakhstan, Belgium, India, Malaysia, Turkey, Azerbaijan, Kyrgyzstan, Uzbekistan, Tajikistan, Moldova, Armenia and others.
The Forum will discuss the following key issues:
Global Challenges and Trends in Education System Development
Development of Scientific and Educational Models and Technologies in the Context of Digital Transformation
Quality Assurance of Medical Education: Integration of Science and Practice
Working languages: Kazakh, Russian, English.
Participation in the Forum is free of charge. Participants are kindly asked to book their own travel and accommodation.
Upon the Forum outcomes it is planned to release an electronic Forum Proceedings. Publication in the Forum Proceedings is free. Materials for publication must be prepared in accordance with the requirements (Appendix 1) and sent before September 10, 2023 to the email address: iaarforum2023@gmail.com
Registration of Forum participants is carried out online until September 20, 2023 through the website: www.iaar.agency in the "Events" section or by the following link
Information on recommended hotels is available at the following link.
Additional information can be obtained from Forum Organising Committee upon the request via e-mail: iaarforum2023@gmail.com, iaar@iaar.kz
Contact persons: Timur Kanapyanov, Malika Saidullaeva +7 (7172) 768 559, + 7 (7172) 768 560
We look forward to welcoming you to our annual international Forum!