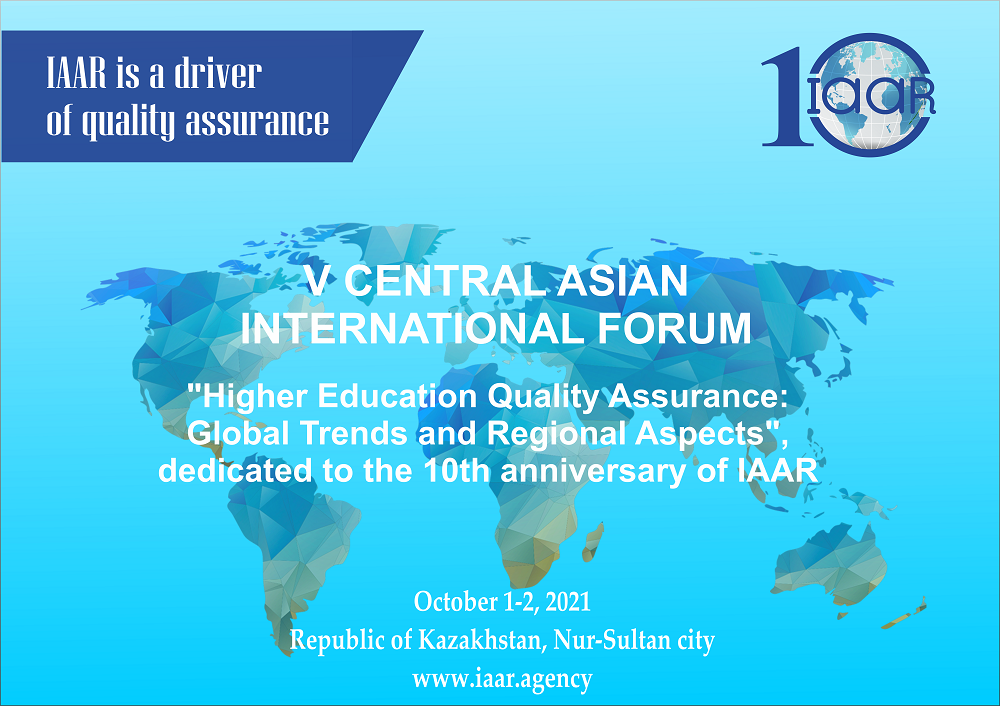 Independent Agency for Accreditation and Rating (IAAR) looks forward to welcoming you at the V Central Asian International Forum "Higher Education Quality Assurance: Global Trends and Regional Aspects", dedicated to the 10th anniversary of IAAR, which will be held in the city of Nur-Sultan (The Republic of Kazakhstan), on October 1-2, 2021, in a mixed (on-line and off-line) format.
The annual Forum is aimed at discussing contemporary approaches in the development of a quality assurance system, accreditation and rating studies, expanding cooperation with international organisations and agencies that contribute to the development of quality culture and promote constructive interaction between representatives of education, labor market and society as a whole, and the results of discussions and debates will have a positive impact on the improvement of education quality potential.
The Forum will be attended by representatives of the Ministries of Education and Science of the Republic of Kazakhstan, the Russian Federation, the Republic of Latvia, the Republic of Azerbaijan, Ukraine, the Republic of Moldova, the Republic of Armenia, the Kyrgyz Republic, the Republic of Tajikistan, the Republic of Uzbekistan, the Republic of Belarus as well as international European networks for quality assurance in higher education, international accreditation bodies, international organisations in the field of education, foreign and local higher education institutions, stakeholders and students.
The Forum agenda covers Panel Sessions and a Round Table to discuss the key issues:
International Approaches to Education Quality Assurance
Higher Education: Development Strategies, Learning Technologies and Future Models
International Accreditation as a Mechanism for the Improvement of Medical Education Quality
The Role of Students in the Education Quality Management
Rating as a Factor in Increasing the Competitiveness of Universities
Reports from the Plenary Session, Panel Sessions, and a Round Table will be included in the Forum Program.
Participation is free of charge. Electronic certificates will be delivered to the Forum participants.
On-line registration of Forum participants by the link
Recommended hotels (accommodation) for forum participants
Additional information can be obtained from Forum Organising Committee upon the request via e-mail: forum2021@iaar.agency, iaar@iaar.kz
Contact persons:
Timur Kanapyanov, Malika Saidullaeva +7 702 909 8011, +7 (7172) 768 559, + 7 (7172) 768 561